+++ New show dates are coming soon! +++
_____________________________________________________________________________
"Wash House Galaxy" – Flying Dutchman will finally be back in the laundromat!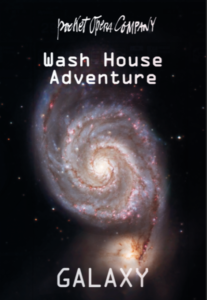 "The time is up", the third time it will work! After what felt like an eon of unwanted Wash House withdrawal, the Flying Dutchman is ready to set sail again to finally escape his unfortunate curse. He sets out to stir a flood of people and washing drums, tossing them into Wagner's emotional cosmos and teleporting them to the spacey spiral galaxy at the other end of the universe: The discovery of the WASH HOUSE GALAXY is imminent! Meanwhile, it has practically become a "Nuremberg cultural heritage" and has been cheered by over 5000 enthusiastic visitors over the years since 2012, the legendary "laundromat Dutchman" from the Pocket Opera Company is finally entering the next round and leaving the dark storms of the recent past behind. Richard Wagner's early romantic work about the cursed ship's captain and the captain's dreamy daughter Senta has never been seen before: compact, focused, iconic – in a unique real-life ambience, right in the middle of the action. Anyone who has missed the grandiose music theater spectacle in a real laundromat in the north of Nuremberg should take the chance now, before the Dutchman disappears forever in the fog of damnation and all hope is lost.
Cast: Gertrud Demmler-Schwab, Robert Eller, Motettenchor Nürnberg
Orchestra: Heymo Hirschmann, Sandra Engel, Stefan Frank, Dominik Landmann
Musical Direction and Arrangement: Franz Killer
Directors: Franz Killer und Florian Reichart
Dramaturgy: Florian Reichart
Costumes: Kristopher Kempf
Technicians: Stelian Pop
Performances:
Thursday 27 Oct 2022, 8pm
Friday 28 Oct 2022, 8pm

(SOLD OUT!)


Saturday 29 Oct 2022, 8pm

(SOLD OUT!)


Thursday 3 Nov 2022, 8pm

(SOLD OUT!)


Friday 4 Nov 2022, 8pm

(SOLD OUT!)


Saturday 5 Nov 2022, 8pm

(SOLD OUT!)



Venue: Laundromat "Schnell & Sauber"; Schweppermannstraße 27 / corner of Pilotystraße, 90408 Nuremberg
Public transport: U3 Kaulbachplatz
Approx. length: 1 hour
Admission: 12,00 Euro; 10,00 Euro (reduced price)
Info & ticket reservations: 0911 / 329047, e-mail: info@pocket-opera.de, text message via WhatsApp, Telegram, Signal (01575/7637018) or Threema (3E2HY4KV)
We would like to express our gratitute to the Meyer family, owners of the laundromat.
_____________________________________________________________________________
In 2017 and 2018, the Pocket Opera Company staged the opera production "Tannhäuser Projekt" in Nuremberg, featuring the Ukrainian band
Dakh Daughters
.
During this time, we got to know all of the artists both as exceptional musicians and personalities that love their home country, the Ukraine.
In these troubled times our thoughts are with all the people living there.
We wish and hope that people of Ukraine can live in peace, freedom and independence.


Call for donations for the people of Ukraine!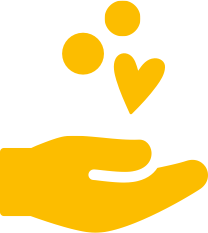 Dear friends of the Pocket Opera Company!
In order to alleviate the suffering of the civilian population in Ukraine and to provide immediate and rapid assistance, we call for you to consider making a financial donation to an aid organization of your choice, which can be used to provide food, shelter, medicine, etc. Thank you!
______________________________________________________________________________
"L'ombra dell'amore – Orfeo ed Euridice" bei den Internationalen Gluck Festspielen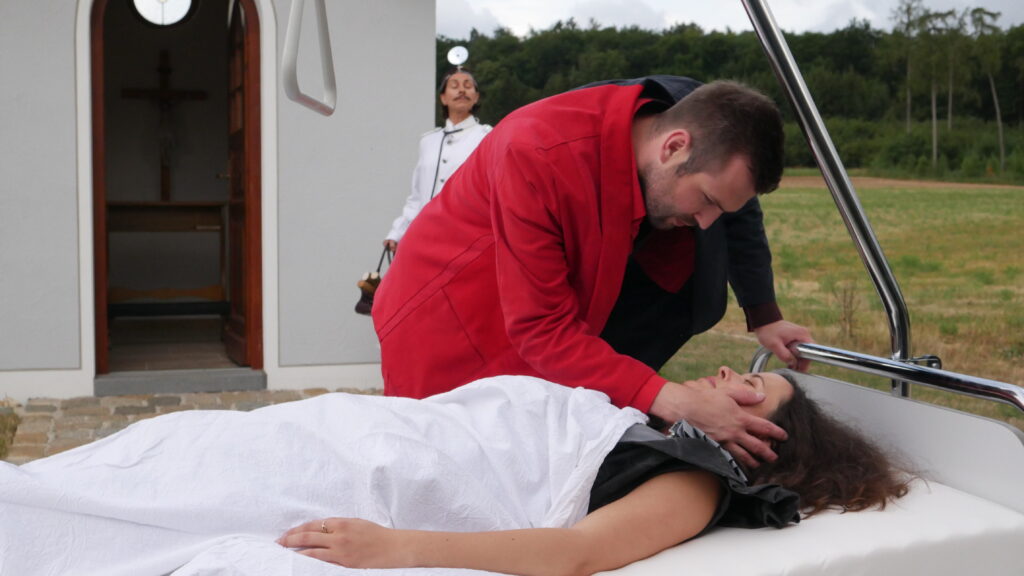 In 2019, the Pocket Opera Company presented Christoph Willibald Gluck's probably best-known and most popular work "Orfeo ed Euridice" (1762) as an exciting operatic hike in the great outdoors. The musical qualities of this stroke of genius are undisputed and timeless. But is there still anything new to discover in this ancient drama of the soul from Greek mythology, which accompanies Orpheus, the unique singer and "King of Lyre", in the search for his deceased Eurydice in the underworld? Of course! A dangerous shadow wanders in the undergrowth of the Berchinger forest, just waiting for the moment to sound out the lovers – a shadow whose roots go back to the time the work was written.
For "L'ombra dell'amore" not only all Orpheus versions created by Gluck himself were taken into account, but also Gluck's different European places of activity and his associated position as a veritable European in a musical-dramatic synthesis by integrating a total of four languages distilled.
The production is organized by Freundeskreis Christoph Willibald Gluck as part of the International Gluck Festival.
Cast: Florian Neubauer, Anna Oswald, Gertrud Demmler-Schwab, Marc Vogel
Orchestera: Heymo Hirschmann (clarinet, sax), David Stützel (musical saw), Michel Watzinger (hammered dulcimer), Irene Urbach (accordion)
Musical Direction and Arrangement: Franz Killer
Directors: Franz Killer und Florian Reichart
Costumes: Daniel Kroh
Dramaturgy: Florian Reichart
Make-Up Artist: Sieglinde Feck
Dates:
30. Juli 2022, 16-20 Uhr
31. Juli 2022, 11-15 Uhr
Spielorte: Berching und Umgebung, OpenAir (Treffpunkt: Gluck-Museum, Johannesbrücke 2, Berching)
Bitte an entsprechende Kleidung für die Wanderung denken!
Ticket-Verkauf über OK Tickets (hier klicken).
______________________________________________________________________________
POC Newsletter: Get the latest news!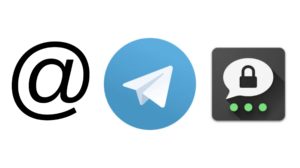 Do you want to stay up-to-date about the Pocket Opera Company's latest news and show dates? Then we can recommend our newsletter available for eMail, Telegram and Threema. If you want to receive our newsletter via eMail, drop us a mail at info@pocket-opera.de, for the Telegram-Newsletter you can subscribe by clicking on this link: https://t.me/pocketoperacompany. And for the Threema-Newsletter, add our Threema ID 3E2HY4KV (https://threema.id/3E2HY4KV) and send us a message. Feel free to follow us on our other social media channels Facebook, Instagram, Twitter, YouTube, Flickr, Soundcloud und Snapchat!
______________________________________________________________________________
We are mourning our legendary diva and honorary president Elizabeth Kingdon-Grünwald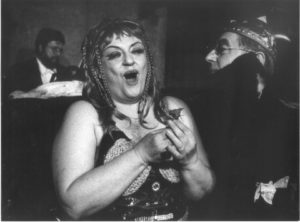 It is with a heavy heart that we need to announce the passing of our legendary prima donna and honorary president Elizabeth Kingdon-Grünwald days before her 93rd birthday. Her numerous memorable POC performances as a tongue-in-cheek diva will never be forgotten. For this reason we have decided to keep the complete video recording of her last public opera appearance "My Fair Verdi" on YouTube and also make our New Year's Eve special ("POC Silvester Special 2020") available again that includes the shortfilm "POC 40" in which she starred. We will all miss her very dearly. Farewell, Eliza, mach's gut!
Obituary by Joseph Dalton for the Times Union
______________________________________________________________________________
Looking for a special gift? Consider our coupons!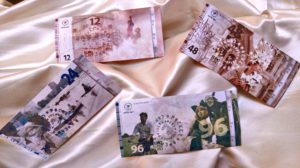 Do you want to surprise your family, friends or colleagues with a wonderful gift for Christmas or some other special occasion? Our gift coupons (value of 12, 24, 48 or 96 Euro) are available now and promise an extraordinary opera experience à la POC. Sounds good? Get in touch with us via eMail info@pocket-opera.de, phone 0911/32 90 47, WhatsApp (01575/7637018), Telegram (01575/7637018) or Threema (3E2HY4KV) message.
______________________________________________________________________________
We've moved: The POC now resides in Nuremberg's Nibelungen quarter!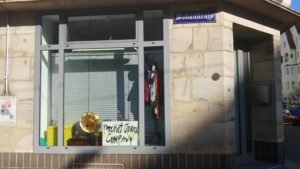 After over 10 years on Nuremberg's Rollnerstraße we have moved our office to the beautiful Nibelungen quarter in the southern part of the city and we're already feeling very much at home. You can now find us at Wodanstraße 73 (right across the Kriemhildes Backwut bakery), our phone number 0049 911 329047 remains the same just as our website and eMail address.