POCalender:  upcoming show dates
26/27/28 November + 3/4/5 December 2020, laundromat SB-Waschcenter Nuremberg: "Wash House Galaxy" – R. Wagner (revival)
+++ more show dates coming! +++
NOTICE: Due to the most recent legal measures to curb the spread of the pandemic, all cultural events in Germany are cancelled for November. Of course this also affects our show dates for "Wash House Galaxy". The performances scheduled for November 26, 27 and 28 will not take place. We are currently trying to organize replacement dates for December. The performances on December 3, 4 and 5 remain on schedule until further notice.
______________________________________________________________________________
POC FESTIVAL on YouTube #9: "pocs space enterprise" Saturday November 14 at 8pm (CET)!
Due to governmental regulations to curb the pandemic we will not be able to perform for our audience in November and have therefore decided to continue our POC FESTIVAL of online opera streams on YouTube with "pocs space enterprise". Monteverdi meets extra-terrestrial. In "pocs space enterprise" the Pocket Opera Company explores the secrets of musical outer space. On board a virtual space shuttle, long lost icons of operatic galaxies emerge from the remnants of the big bang: Claudio Monteverdi, Henry Purcell, Robert Schumann, Camille Saint-Saens and an earthling known for his galatic vibe: Klaus Nomi.
Cast: Gertrud Demmler-Schwab, Katharina Heiligtag, Maximilian Argmann, Robert Elller, Julian Freibott, Johannes Reichert, BOUNCE! Dance Company – Dana Hasselbruch, Nicole Feuchtinger, Christian Hügel and Markus Hügel
Orchestra: Gert Kaiser (soprano saxophone), Sandra Engel (alto saxophone), Stefan Frank (tenor saxophone), Heymo Hirschmann (baritone saxophone), Maja Taube (harp), Axel Dinkelmeyer (percussion), Georg Ongert (cello) und Corinna Zimprich (double bass)
Musical Arrangement and Direction: Franz Killer, Director: Rolf P. Parchwitz, Costumes: Evelyn Straulino, Graffiti: Julian Vogel
Premiere: 28 October 2010, IGMIV-Halle Nuremberg
______________________________________________________________________________
"Wash House Galaxy": OMG! Wagner's "Flying Dutchman" in for another round at the laudromat 2020!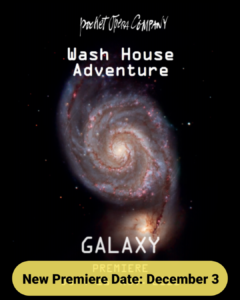 All comes to an end but not our laundromat "Dutchman"? Well, at least we can proudly announce that we will be going for another round in 2020 after all shows of "Wash House Infinity" in 2019 were once again sold out, it's an incredible 9th year in a row for this veritable runaway hit production. It is now also the most often and longest played production in the history of the Pocket Opera Company! From the infinite Finiteness of the earth's globe Wagner's tormented skipper is reaching out to the vast space dimensions of the galaxy, daringly escaping black holes and interstellar vortexes: "WASH HOUSE GALAXY" is ready for take off!
NOTICE: Due to the current Covid-19 situation, this year's performances will take place with very limited seating capacity and special hygienic measures. It is therefore encouraged to book your tickets early.
Cast: Gertrud Demmler-Schwab, Robert Eller, Motettenchor Nürnberg
Orchestra: Heymo Hirschmann, Sandra Engel, Stefan Frank, Dominik Landmann (saxophone)
Musical Arrangement & Direction: Franz Killer
Directors: Franz Killer und Florian Reichart
Dramaturgy: Florian Reichart
Costume Designer: Kristopher Kempf
Technical Direction: Stelian Pop, Max Mönch
Show Dates:
November 26th 2020, 8pm
November 27th 2020, 8pm
November 28th 2020, 8pm (SOLD OUT!)
December 3rd 2020, 8pm
December 4th 2020, 8pm (SOLD OUT!)
December 5th 2020, 8pm
Venue: Laundromat "SB-Waschcenter Schnell & Sauber" Nuremberg, Schweppermannstraße 27 / corner of Pilotystraße, 90408 Nuremberg
Public transportation: Metro line U3, stop "Kaulbachplatz"
Estimated run-time: approx. 60 minutes
Tickets: 12 Euro / 10 Euro (reduced price)
Info and ticket reservation: 0911 / 329047, eMail: info@pocket-opera.de, WhatsApp message: (01575/7637018), Telegram message (01575/7637018) or Threema message (3E2HY4KV).

We would like to express our sincere gratitude to the Meyer family, owners of the laundromat.
______________________________________________________________________________
New! We now accept card/contactless payments at our box office!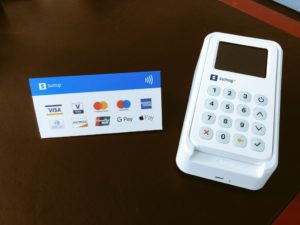 We are happy to announce that we will be able to accept card and contactless payments including Apple Pay and Google Pay at our venue's box office with a mobile payment terminal from now on! This means you can pay for your tickets with credit cards (Mastercard, Visa, American Express, Diner's Club, Discover), Giro/EC/Maestro card, smartphone or smartwatch. Wir freuen uns, dass wir an unserer Abendkasse in Zukunft Kartenzahlungen und kontaktloses Bezahlen mit Apple Pay und Google Pay anbieten können! Das heißt, es ist nun möglich, Tickets mit Kreditkarte (Mastercard/VISA), EC/Maestro-Karte, Smartphone oder Smartwatch zu kaufen.
______________________________________________________________________________
The POC is back on stage: "Coup de Coeur" at the Spinnalto Festival Kulmbach on September 12!
Wir freuen uns sehr, bald wieder für unser Publikum spielen zu können! Am 12. September werden wir mit unserer Silvestival-Neuproduktion "Coup de Coeur" beim Spinnalto Festival in Kulmbach gastieren. Ein wild-romantischer Ariencocktail à la POC, eine einzigartige Verführung, sinnlich, betörend im Ohr zergehend wie ein Pralinentrüffel auf der Zunge. Die unverwechselbare Art of Opera, mit reinsten und schmackhaftesten Zutaten: 21% Offenbach, 11% Wagner, 14% Humperdinck, 12% Marschner, 23% Strauß, 10% Weber, 9% Puccini sowie eine Prise intergalaktischer Sternenstaub. Dazu empfehlen wir einen frisch kredenzten trockenen Roten oder ein Glas feinsten, zart perlenden Champagner.
Mit: Gertrud Demmler-Schwab (Sopran), Robert Eller (Bariton)
Orchester: Heymo Hirschmann (Sopransaxophon), Sandra Engel (Altsaxophon), Stefan Frank (Tenorsaxophon), Dominik Landmann (Baritonsaxophon)
Musikalische Bearbeitung und Leitung: Franz Killer
Regie: Franz Killer und Florian Reichart
Aufführungstermin: 12. September 2020, 17 Uhr
Spielort: fritz Einkaufzentrum, Kulmbach
Dauer: ca. 30 Minuten
Eintritt: frei
BITTE AN MUND-NASEN-BEDECKUNG DENKEN!
______________________________________________________________________________
POC FESTIVAL on YouTube #8: "Männerlist größer als Frauenlist" by Richard Wagner
After many months of multiple opera video streams from our history, the "POC Festival" reaches its crowning climax on the upcoming weekend with a very special operatic rarity: Richard Wagner's singspiel fragment "Männerlist größer als Frauenlist oder Die glückliche Bärenfamilie" ("Men are more cunning than women or The happy bear family", 1837/38) which the POC completed and presented as a world premiere in 2013. Experience a Wagner like no other: Comical, light-hearted and entertaining in the best sense of the word! The story of goldsmith Julius Wander, whose motto above the workshop incites an offended lady to unleash a provocative game of revenge upon him and driving an eccentric baron to the brink of a nervous breakdown in the process, eventually sees its full-length debut on the operatic stage after almost 200 years. For Wagner fans but also for connaisseurs of operas who usually avoid the "Bayreuther Meister"…
Cast: Johann Winzer, Gertrud Demmler-Schwab, Jens Müller, Jakob Kreß, Robert Eller, Frank Strobelt, Klaus Meile, Constanze Wagner, Heike Kiefer, Christopher Kessner, Manuel Krauß
Choir: Simone Pinkert, Yvonne Thamm, Václava Ticha, Heike von Issendorff, Martina Kühnel, Ruslana Sheyer, Christian Horvat, Wladimir Landsmann, Josef Niklaus, Ingo Amberger, Götz Greiner
Orchestra: Susanne Block-Strohbach, Paul Meiler, Tobias Zillner, Dominik Landmann, Lisa Schuler, Stefan Frank, Heymo Hirschmann Georg Ongert, Corinna Zimprich, Axel Dinkelmeyer, Carl Mittelbach, Yannick Schmidt, Monina Schwarz, Samuel Selzam, Kilian Stengl
Musical Arrangement and Direction: Franz Killer
Director: Peter P. Pachl
Costumes and Stage Design: Evelyn Straulino
Dramaturg and Assistant Director: Florian Reichart
Technical Direction: Stelian Pop
Make-Up: Heidi Burckhardt
Props: Monika Schneider, Jule Schneider
Correpetition: Iris F. Henning
A co-production of the Pocket Opera Company and the Deparment for Cultural Affairs of the city of Nuremberg.
World Premiere: 27 June 2013
ADDITIONAL INFORMATION: Synopsis and essay about the production.
______________________________________________________________________________
We've moved: The POC now resides in Nuremberg's Nibelungen quarter!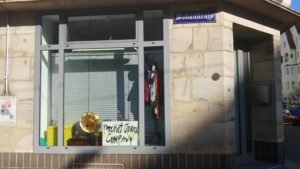 After over 10 years on Nuremberg's Rollnerstraße we have moved our office to the beautiful Nibelungen quarter in the southern part of the city and we're already feeling very much at home. You can now find us at Wodanstraße 73 (right across the Kriemhildes Backwut bakery), our phone number 0049 911 329047 remains the same just as our website and eMail address.
______________________________________________________________________________
POC Newsletter: Get the latest news!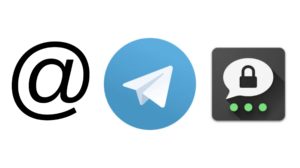 Do you want to stay up-to-date about the Pocket Opera Company's latest news and show dates? Then we can recommend our newsletter available for eMail, Telegram and Threema. If you want to receive our newsletter via eMail, drop us a mail at info@pocket-opera.de, for the Telegram-Newsletter you can subscribe by clicking on this link: https://t.me/pocketoperacompany. And for the Threema-Newsletter, add our Threema ID 3E2HY4KV (https://threema.id/3E2HY4KV) and send us a message. Feel free to follow us on our other social media channels Facebook, Instagram, Twitter, YouTube, Flickr, Soundcloud, Periscope & Snapchat!
______________________________________________________________________________
Looking for a special gift? Consider our coupons!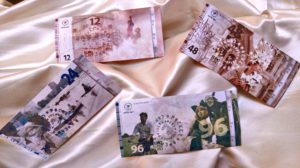 Do you want to surprise your family, friends or colleagues with a wonderful gift for Christmas or some other special occasion? Our gift coupons (value of 12, 24, 48 or 96 Euro) are available now and promise an extraordinary opera experience à la POC. Sounds good? Get in touch with us via eMail info@pocket-opera.de, phone 0911/32 90 47, WhatsApp (01575/7637018), Telegram (01575/7637018) or Threema (3E2HY4KV) message.