POCalender 2019 –  upcoming show dates
November 28/29/30 + December 5/6/7, laundromat "Schnell & Sauber" Nuremberg: "Wash House Infinity" – Richard Wagner (revival)
December 31, Silvestival Nuremberg: "Coup de Coeur" – Humperdinck/Marschner/Offenbach/Puccini/Strauß/Wagner/Weber (new production)
+++ more show dates coming! +++
______________________________________________________________________________
"Wash House Infinity": The Legend lives on – Wagner's "Flying Dutchman" in for another round at the laudromat 2019!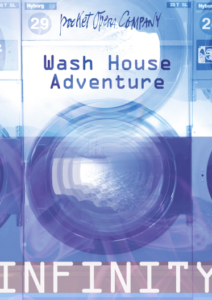 8tention, 8tention! We were initially planning to see our cursed captain off to a well-deserved retirement after "Wash House Finale" and its 50th performance but since all shows were again sold out before we had even launched the revival series for the 7th year in a row, there was a strong feeling we couldn't just let this long-running cult classic sink to the bottom of the ocean. So yes, the Dutchman will be back in 2019 – a big thanks to the Meyer family, the owners of the laundromat that has now become Nuremberg's smallest opera stage with the biggest emotions! As we have already received numerous ticket requests, don't wait too long getting yours for "Wash House Infinity"!
Cast: Gertrud Demmler-Schwab, Robert Eller, Motettenchor Nürnberg
Orchestra: Heymo Hirschmann, Sandra Engel, Stefan Frank, Dominik Landmann (saxophone)
Musical Arrangement & Direction: Franz Killer
Directors: Franz Killer und Florian Reichart
Dramaturgy: Florian Reichart
Costume Designer: Kristopher Kempf
Technical Direction: Stelian Pop, Max Mönch
Show Dates:
November 28th, 8pm (SOLD OUT!)
November 29th, 8pm (SOLD OUT!)
November 30th, 8pm (SOLD OUT!)
December 5th, 8pm (SOLD OUT!)
December 6th, 8pm (SOLD OUT!)
December 7th, 8pm (SOLD OUT!)
Venue: Laundromat "Schnell & Sauber" Nuremberg, Schweppermannstraße 27 / corner of Pilotystraße, 90408 Nuremberg
Public transportation: Metro line U3, stop "Kaulbachplatz"
Estimated run-time: approx. 60 minutes
Tickets: 12 Euro / 10 Euro (reduced price)
Info and ticket reservation: 0911 / 329047, eMail: info@pocket-opera.de, WhatsApp message: 01575/7637018.
Tickets are also available at the Kulturinformation Nürnberg (Königstraße 93) and their OnlineShop.
We would like to express our sincere gratitude to the Meyer family, owners of the laundromat
______________________________________________________________________________
"Coup de Coeur" – New production for the Silvestival 2019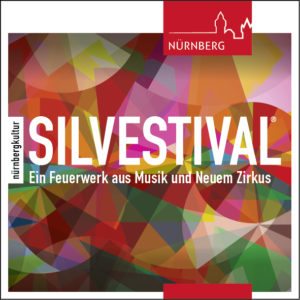 In 2011, the POC landed a veritable smash hit at the Nuremberg Silvestival festival with "AIR BUS ADVENTURE": Wagner's "Flying Dutchman" in a moving metro bus was a unique experience for the enthusiastic audience. After two successful revivals we join the New Year's celebrations of the 2019 Silvestival with "COUP DE COEUR", a fresh and delicious aria cocktail to kick off 2020, presented in the glittery-golden realm of the fascinating Café Opera! A tentalizing blend of 21% Offenbach, 11% Wagner, 14% Humperdinck, 12% Marschner, 23% Strauß, 10% Weber, 9% Puccini and to top it off: a pinch of intergalactic star dust. Only on New Year's Eve, and only at the Nuremberg Silvestival!
Cast: Gertrud Demmler-Schwab (soprano), Robert Eller (baritone)
Orchestra: Heymo Hirschmann (soprano saxophone), Sandra Engel (alto saxophone), Stefan Frank (tenor saxophone), Dominik Landmann (baritone saxophone)
Musical Arrangement and Direction: Franz Killer
Directors: Franz Killer and Florian Reichart
Video Art: Dream Film Factory (Jenny Diehl, Alexander Dannhauser, Artem Selennov)
Dramaturgy: Florian Reichart
Technical Director: Stelian Pop
Premiere & Show Dates: 31. Dezember 2019
Show Times: 8.30-9pm, 9.45-10.15pm, 11-11.30pm, 0.30-1am
Venue: Café Opera, Königstraße 33-37 (Ostermayr-Passage), 90402 Nürnberg
For ticket info please check here.
______________________________________________________________________________
Looking for a special gift? Our new gift coupons 2019 are here!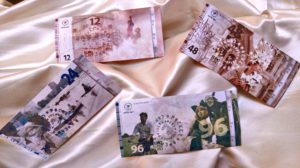 Do you want to surprise family, friends or colleagues with a wonderful gift for their birthday or some other special occasion? Our new gift coupons (value of 12, 24, 48 or 96 Euro) are available now and promise an extraordinary opera experience à la POC. Sounds good? Get in touch with us via eMail info@pocket-opera.de, WhatsApp 01575/7637018 or phone 0911/32 90 47.
______________________________________________________________________________
Get the latest POC news via WhatsApp!
Are you using WhatsApp? If so, there's a great way to stay informed about new productions and show dates – you can even reserve your tickets that way: Sign up for our free WhatsApp news letter! And this is how it works:
Add our WhatsApp number 0049 1575 7637018 to your contacts
Send us a message via WhatsApp that you would like to be added to the newsletter
Done! You are going to receive regular news and will be able to keep in touch with us.
______________________________________________________________________________

Download our free smartphone/tablet app for iPhone/iPad or Android devices
If you want to stay up to date with everything happening at the Pocket Opera Company, feel free to download our app!
iPhone/iPad (iOS):
https://itunes.apple.com/de/app/pocket-opera-company/id973007964?mt=8
Android devices:
https://play.google.com/store/apps/details?id=com.Tobit.android.Slitte6775430438
______________________________________________________________________________
Past events this year…
"Shooting Stars" at the Volksfest Nuremberg: Finally back again after five years!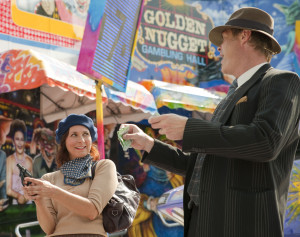 In September 2014 the Pocket Opera Company for the first time staged a show at the Nuremberg fall fair ("Volksfest") and showcased a spectacular adaptation of Carl Maria von Weber's famous opera "Der Freischütz" ("The Freeshooter"/"The Marksman"). For the 100th anniversary of the Volksfest we are happy to announce a revival of the production. Get ready to follow Bonnie and Clyde a.k.a. Agathe and Max on their daring escape from the unforgiving grip of the law amongst a burst of eye-popping colors and the tantalizing scent of candied almonds. Save the date!
"Not just the singers but also the audience obviously had a lot of fun! The result is a well-deserved and long-lasting applause!" (NZ)
"A very special and never-seen-before highlight …" (Der Komet)
Cast: Gertrud Demmler-Schwab, Markus Zapp, Robert Eller
Orchestra: Die 12 Saxofonisten
Musical Arrangement & Direction: Franz Killer
Directors: Franz Killer and Florian Reichart
Dramaturgy: Florian Reichart
Costume Designer: Evelyn Straulino
Technical Direction: Stelian Pop
Dates: May 5th 2019, 11am & 12 noon
Venue: Volksfestplatz Nürnberg
Public transportation: Tram 6 & 8, Bus 36 (stop "Doku-Zentrum") / Bus 65 (stop "Volksfestplatz")
Estimated run-time: approx. 40 minutes
Tickets: no tickets needed, free of charge