The Pocket Opera Company (POC) is Germany's oldest independent opera company. It was founded by stage director Peter Beat Wyrsch and conductor David Seaman in 1974 in Nuremberg out of frustration with the contemporary situation at traditional opera houses where the art form had developed into a dusty museum-like red-carpet ritual for the upper crust.
The idea of the POC was to break opera out of this secluded shrine and give it back to the people, infusing the old art form with a refreshing tongue-in-cheek style, questioning old habits and stereotypes and performing in places where nobody would expect opera to happen. The Pocket Opera Company's name is a homage to English travelling opera companies of the past centuries that had to put all their production utensils "into a pocket" when touring the country. As a trailblazer of the developing free theater scene in Germany at the time, the POC soon became a well-known spring of creative musical theater both nationally and internationally, staging productions in New York City, Mexico City, Siberia and New Zealand, receiving multiple awards for their outstanding artistic work.
Productions included the famous and world's first one-evening adaptation of Wagner's full Ring-cycle ("Der Ring an einem Abend"), an inspiring re-discovery of Heinrich Marschner's romantic gem "Der Vampyr" and later also many newly composed contemporary operas by composers like Mauricio Kagel, Heiner Goebbels and Philip Glass. The POC also excelled (and still does) at blending contemporary music and art forms with the traditional heritage of the genre, incorporating among other things slam poetry, breakdance or parkour. As a beacon for unique ways to revive the operatic realm, the POC attracted internationally renowned singers like the Wagner-tenor Wolfgang Schmidt, Jennifer Rhys-Davies, Elizabeth Kingdon or David Moss.
In 2003 the conductor Franz Killer took over the position of musical director from David Seaman, in 2007 he also took over the position of artistic director from Peter Beat Wyrsch. Since then, a new wave of extraordinary opera events has amazed critics and audiences alike: A world premiere of a completed Wagner-opera fragment ("Männerlist größer als Frauenlist"), the re-discovery of the first South-American opera "La púrpura de la rosa" by Torrejón, the spectacular staging of Peter von Winter's forgotten "La Grotta di Calypso" in an old public indoor swimming pool with floating and diving soloists or the (apparently) never-ending success story of a compact version of Wagner's "Flying Dutchman" in a real laundromat ("Wash House Adventure") – to name just a few.
While "chamber opera"-style projects have flourished over the years in many cities and countries, the POC remains unique and distinct in its philosophy to not have its own theater stage but instead keeps looking out for unconventional places to spark the emotional fire of opera's overwhelming potential to arouse ardent passion among people of all sorts and backgrounds. For the POC, opera doesn't only belong into an opera house, for the POC, opera is everywhere – now, and for many years to come!
Legends of the Past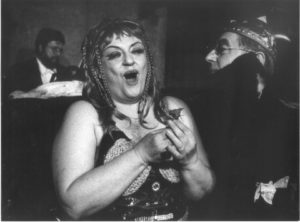 It is with a heavy heart that we need to announce the passing of our legendary prima donna and honorary president Elizabeth Kingdon-Grünwald days before her 93rd birthday. Her numerous memorable POC performances as a tongue-in-cheek diva will never be forgotten. For this reason we have decided to keep the complete video recording of her last public opera appearance "My Fair Verdi" on YouTube and also make our New Year's Eve special ("POC Silvester Special 2020") available again that includes the shortfilm "POC 40" in which she starred. We will all miss her very dearly. Farewell, Eliza, mach's gut!